Here's an article from this month's Broadband Communities magazine by Stephen Goldsmith and Susan Crawford  of Harvard University about Smart Chicago's work with SWOP in collecting neighborhood-level building information for use in collaborative decision-making.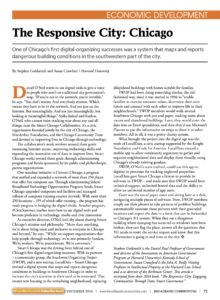 Here's a snip:
SWOP, O'Neil's team realized, could use this app to digitize its processes for tracking neglected properties. LocalData gave Smart Chicago a license to provide its software to SWOP – and made sure that SWOP would have technical support, unlimited hosted data and the ability to allow an unlimited number of app users.

Gone was the era of paper notes and sitting later at a desk, navigating multiple pieces of software. Now, SWOP members simply use their phones to take pictures of problem buildings, automatically associate those pictures with their geocoded locations and export the data in a form that can be forwarded to Chicago's 311 system. When they see a dangerous building where dumping has occurred or windows have been broken, they can ag the place, answer all the questions that 311 needs to route the service request and know that this information is going in real time to the city.